Matt Godwin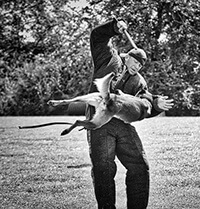 Matt Godwin  began training dogs at the age of 15, but coming from a family with a strong Law Enforcement presence, Matt has been around working dogs since he before he could walk. Matt established DNA K9, LLC in 2014 after retiring from 10 years of service in the United States Army, co-running a specialized K9 training program at one of the largest kennels in the US and patrolling the streets of a suburb in the largest city in North Carolina as a Police K9 Handler.
Seeing the benefit and force multiplying capability first hand of what just one highly trained and motivated canine can bring to a unit, Matt recognized that not every company cares about their Police or Military Handler client the way he does and the proof was obviously shown in their product and skill set. Matt became very passionate about this… and decided after the best canines are selected, and after passing very extensive training and scrutiny, only then would they be sent to work the streets in an operational capacity. Matt considers the selling or passing off of anything less to be Blood Money and Matt believes that you can NEVER put a price tag on a Handler's life just to make a buck. 
 Links: DNA K9 | fb | Decoy School
Class: Dog Sparring, Communication with the K9 and Exposure to Man Pressure as a Decoy
The class will discuss how to recognize and translate what the K9 is telling you during an engagement, placate to the needs of the dog, create and maintain deep grips and ground fighting a man. There will be live demonstrations, and handlers are encouraged to participate with their K-9 if they so please.