Leos Drbohlav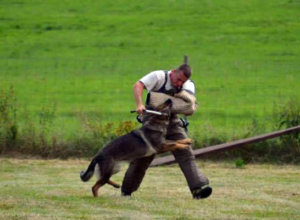 Leos Drbohlav was raised by Josef Janos, his grandfather, who was decorated in 1954 as the best K9 handler in the Czechoslovakian Military. Drbohlav has been training K9s since he was old enough to walk. He first appeared in front of the K9 community at the young age of four when he performed a demo at the North Bohemia Police Trial.
Today, he is an internationally renowned canine trainer and breeder with extraordinary ability in the training of working canines, canine trainers as well as the genetics associated with the breeding of working canines for use in military, law enforcement and border patrol applications.
Mr. Drbohlav has trained with the leading experts in his field and is rightly considered an expert in the science of animal behavior. In this regard, he was asked to join the University in Koelin, Germany as a researcher in the study of detection. Mr. Drbohlav regularly conducts seminars throughout the United States and Europe for military personnel and law enforcement. He has individually titled fifteen canines of which seven were titled at the most demanding level.
The uniqueness of Mr. Drbohlav's training combines modern science and the understanding of training, not only with dogs but also other species – such as sea mammals. This stems from his gained experience with law enforcement and military. The foundation of his training is the merging of science and practice.
Leos Drbohlav is the director of training for True Canine International, located in the heart of Texas. For more information about Drbohlav's training expertise, visit www.truecanineinternational.com.
---
Class: How Animals Learn
The reason humans chose to domesticate animals was to use them in many ways, some in order to feed ourselves, some because of their extreme physical strength and some for their extreme instincts of predators.
In order to use their gifts though, we had to learn how to teach them what we want them to do. We did pretty good job in teaching the horses and I believe we are doing pretty good job in teaching the dogs. Can we improve our ability in teaching them more and thus get even more out of their super power?
We hear and read all these fancy words nowadays such as operant and classical conditioning, positive and negative reinforcing, positive and negative punishment, luring, shaping, habituation, stimuli desensitizing, etc.
Can it be just simpler so we don't need to years of education to understand all this?
Once you understand how the animal learns, you will be successful trainer.