Jerry Bradshaw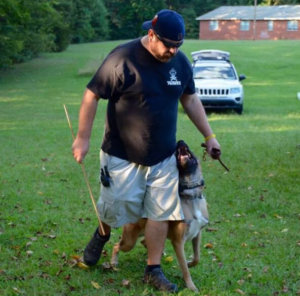 Jerry Bradshaw is the Training Director & President of Tarheel Canine Training, Inc. in Sanford, North Carolina. Tarheel Canine Training Inc. is a nationally renowned training facility for police service dogs and has placed trained police dogs at federal, state and local law enforcement agencies nationally and internationally since 1993. Jerry is often a featured speaker at national police K-9 conferences and travels extensively giving seminars to police departments, the U.S. Military, and sport trainers across the United States. Jerry has written a book, Controlled Aggression, which is rapidly becoming the standard text for understanding the fundamentals of canine aggression training for police service, personal protection and competitive dog sports.
Jerry also maintains a free blog at tarheelcanine.com.
Proofing Building and Area Searches
Building searches and Area Searches are a staple of police K9 work. There are many variables to consider in training a solid building search including when to use hidden and when to use visible decoys, how to address equipment orientation during searching (including equipment choices and how to achieve extinction of responses to equipment), arranging training sessions to allow for multiple deployments (repetitions) per training opportunity, variation of height, depth, and permeation times, suspect encounters in a building search (including training for passive, active and hidden suspects), and Improving starts to the search, hunting behavior, as well as building search alerts. We will include a discussion of the misuse of metal cages in proofing area searches. We will discuss how to resolve common problems in the building search and area search including multiple suspects, hunting duration and intensity, and reward schedules dogs need to perform their best.