Fred Fusco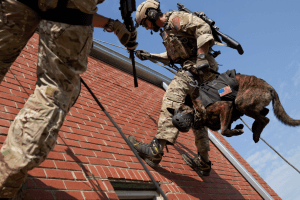 Fred Fusco, a 20+ year Army Veteran, Fred spent much of his career as a Green Beret Medical Sergeant, then as an Operator and K9 handler in the US Army's elite special operations unit. Fred is an experienced Dog Trainer and Instructor both in the military and civilian spheres of operations. His primary responsibility in Army Special Operations Command was the training and handling of multi-purpose canines.  Fred has deployed numerous times in support of the Global War on Terrorism to Afghanistan, Iraq, and several other countries. Fred is an SME in tactical aspects of canine use and has worked training police and special operations multi-purpose K9's. His specialty is covert and tactical deployment. He is also an expert in parachute and rope insertion and exfiltration techniques   Fred also has a vast knowledge of explosives working as a master breacher for the DoD. He has been a contracted instructor for 75th Ranger Regt, BORTAC, Navy SEALs, and Army Special Forces. Also works with several allied nations' counter terrorism units.
---
Class:  K9 Tactical Combat Casualty Care
This will be a discussion of the 3 phases of care taught by Army Special Operations medics and operators who have real world experience treating combat K9 casualties.
Care Under Fire: Actions to be taken while still engaged by the threat
Tactical Field Care: Actions taken when no longer engaged by the threat
Tactical Evacuation Care: Actions taken when the patient is being evacuated from the point of injury
Class: K9 Infiltration/Exfiltration Rope Techniques
This will be an introduction and demonstration by a retired Army Special Operations Operator/K9 Handler. It will cover the techniques and procedures K9 handlers in special operations units use to get there K9's into and out of mission target areas in permissive, non-permissive, and semi-permissive areas of operations. A discussion will take place on how these techniques can be applied by law enforcement, SWAT units, and other government agencies who utilize K9's in similar capacities.