Dave Bessason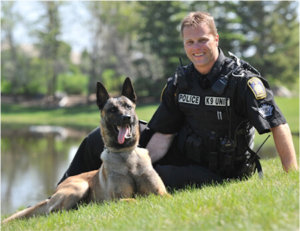 David Bessason is a retired Sergeant of Winnipeg Police Service (Canada) K-9 Unit, where he has over 28 years of service training and handling police canines. In 1999, David implemented Canada's first municipal police breeding program in Winnipeg, Manitoba. Since then there have been over 115 pups breed, with the majority being sold to police services in Canada and the United States.
Since 2002, David has been the lead instructor for numerous tracking seminars across North America. David has lectured and provided training at national seminars across North America, and is a long-time member of the USPCA as well as a certified NAPCH trainer. David's expertise include tracking fundamentals, and preparing canine teams for successful deployments.
 David was responsible for the training of the majority of Police Services in Manitoba as well as neighboring departments in North Dakota. David has trained and assisted over 400 canines in law enforcement.
 Since retiring David is currently working for Winnipeg Jets (NHL Hockey) team as the sole explosive detector handler.
Class: Training a Tracking Dog Step-by-Step
How to introduce a young dog to tracking.
How to teach a dog corners, road crossings, double backs, cross tracks, starts, articles,hard surface.
Proper patterning to re-acquire a track.
How to create a negative.
To properly read your dog while tracking.
How to properly lay a track.
Different types of tracks to lay.
Problem solving and to build tracking drive.