4th Annual International Police K-9 Conference & Vendor Show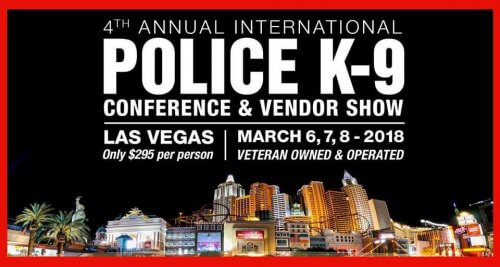 March 6 - March 8 2018 @ Las Vegas, NV | Host: Police K-9 Magazine
4th Annual International Police K-9 Conference & Vendor Show
March 6, 7, 8, 2018
Visit Website
Registration, Icebreaker Social and Vendor Show ~ March 6, 2018
Classes & Vendor Show ~ March 7-8, 2018
Only $295 per person
*Certificate for 16 hours Continuing Law Enforcement K-9 Education
1-Day Passes available for 150.00
WHO WILL BE THERE?
62 TOP NOTCH VENDORS
33 WORLD CLASS INSTRUCTORS
800+ ATTENDEES FROM AROUND THE WORLD
Gorgeous suites for only $65 per night!
Call the Tuscany Suites & Casino (877) 887-2261 (Group Code: 14N7IV) to book your hotel at group rates today!
Visit our Host Hotel
Conference & Vendor Show is open to all K-9 Trainers, Handlers, Law Enforcement and Military Personnel.
See YOU in Vegas!
Online: Website
Phone: 270-534-0500
Email: info@policek9magazine.com
The Police K-9 Conference & Vendor Show in Las Vegas is the OFFICIAL conference of Police K-9 Magazine ®