Over 170,000 people back campaign to save hero British Army dogs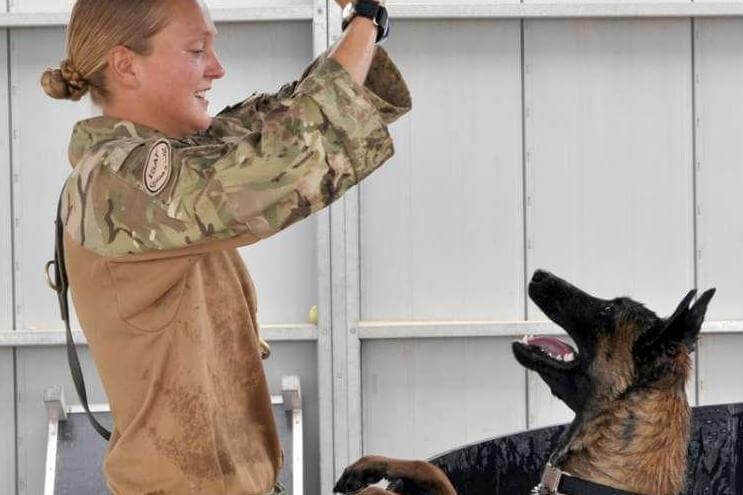 Published on December 4, 2017
More than 170,000 people have now signed a petition to save the lives of three hero service dogs who are due to be put down next week.
Stars including Ricky Gervais, TOWIE's Pete Wicks and actress Kate Mara have already backed calls to rescue the three canines, who are proving difficult to be re-homed and will be euthanized next week.
Belgian shepherds Kevin and Dazz helped save thousands of lives by smelling out explosives for the British Army in Afghanistan while former service dog Driver worked for the police.
 The UK's deputy foreign secretary Sir Alan Duncan has written to his colleagues at the Ministry of Defence in a last-ditch attempt to save the death row dogs.
His calls have been joined by global animal welfare charity Humane Society International, who said they are "extremely saddened" by the news.
More than 171,000 people have now signed the online petition to save the dogs, which was started by novelist and former special air sergeant Andy McNab.
Keen animal rights campaigner Ricky Gervais backed the campaign, tweeting to his 12.9 million followers: "Help save these hero dogs" while Pete Wicks, from popular reality TV show The Only Way is Essex also urged people to add their support.
Kate Mara, who stars in House of Cards, tweeted: "This is UNACCEPTABLE. Please sign the petition and help save these war dogs."
A spokeswoman for Humane Society International said: "We are extremely saddened to hear that the Defence Animal Centre plans to euthanize Kevin, Dazz and Driver, three retired military working dogs, despite outcries not only from the public but from the handlers who worked closely with them.
"If euthanized, these dogs, who served for years and saved countless lives, will have been robbed of the opportunity to spend their golden years in loving homes.
"After a lifetime of duty to protect humans, we have a duty of care to them, not to dispose of them like unwanted equipment.
"We urge the Defence Animal Centre to reconsider this decision, and work with the handlers who have offered their assistance to facilitate the dogs' adoption into loving homes with experienced owners. Both two and four legged veterans deserve our utmost respect."
A spokesman for the Ministry of Defence said on Friday: "Wherever possible we endeavour to rehome military working dogs.
"Sadly there are occasions where this is not possible."